How can I get a drone show for an event ?
---
First you have to contact us and tell us more about your project. Please use https://www.dronisos.com/generalcontact For custom shows we'll need at least a one month lead-time to let our choreographers create a unique performance according to your requirements. The other option is to choose a show within our catalog. Once we agree on terms and conditions, we'll create and review the choreography with you and start preparing the drone fleet. Then Dronisos will come to install and test the system at your venue. For a one time show our operators will remain on site to run the show. If it's a permanent show we'll train your staff in order to let you run the show. We ensure the maintenance of the drone fleet and remote support during the contract period.
---
How much time do you need to prepare a show ?
---
The earlier the better ! For custom shows we need at least one month to create and test the performance. Three months is an ideal timeframe.
---
How do you ensure safety ?
---
We have the safest system on the planet. That's why theme parks use our system for permanent shows. We have many safety and security mechanisms that guarantee that a drone will never fly into the audience.
---
What type of drones do you use ?
---
We use all types of drones from commercial brands ( DJI, Yuneec, etc…) ; but our favorite ones are from Parrot. We deeply modify Parrot drones hardware and software in order to make them perfect for drone light shows. Autan (base on Parrot Anafi), 325g, Autonomy: up to 25 minutes
Zephyr (based on the Parrot Bebop 2), 550g, Autonomy: up to 25 minutes
Helios (based on the Parrot Mambo), 75g, Autonomy: up to 5 minute s
Neopter / Mistral, 8 kg, 2kg payload, Autonomy: up to 35 minute flight time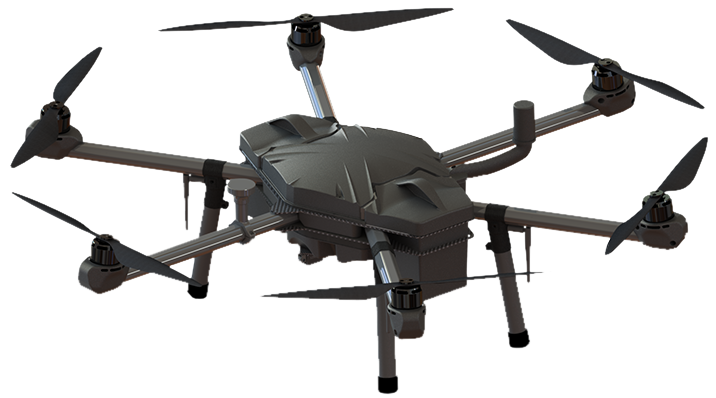 ---
What about authorizations and drone policies?
---
Drone regulation can be very strict in some countries. With our experience, we can manage to obtain authorizations. In France, we are known by the Civil Aviation Authorities, which gave us authorizations to fly in the middle of the city of Bordeaux for example. We have received the authorization from aviation authorities of Malaysia, Canada, Greece, Saoudi Arabia, Koweit, India... More than 20 countries in total... We are also approved by several major amusement parks.
---
What information do you need to make a proposal ?
---
In order to respond as quickly as possible, we'll need the following information: - Number of drones - Duration of the show - Format : One-off or Permanent show ; Catalog or Custom show ; Integration with an existing show - If there will be any dancers or actors - Location (Google map link is ideal) - Date - Type of venue : Performance hall, TV set, stadium... - Size of the flight zone: length - width - height - Distance between the audience and the performance area
---
What's the charging time ?
---
Our batteries take 30-45 min to charge, but when drones are rotated more often than that we can use spare battery sets.
---
Where can you perform a show ?
---
We perform Indoor and Outdoor shows. We can fly in complex places such as stadiums. We can also run a show anywhere in the world. We have several operators who are always ready to deliver a show. We have also developed a partner program to improve our international presence and to promote our technology worldwide. We have a very important safety rule: we never fly directly above people's heads.
---
How many drones can you put in the sky ?
---
Just for your info, we hold the indoor world record for a drone show - 200 drones indoor at the same time. We can fly up to 1000 drones. If the performance is indoor, we may be limited by the size of your venue. The optimum number of drones is determined by the available space and creative needs of your project. Having a huge number of drones is great... but having a decent time to create the show is even better ! We think you can have a better show experience asking a 500 drone show in 3 months than asking 1000 drones in 3 weeks...
---
How long can drones fly ?
---
Our smallest drone, the Helios, can fly up to 5 minutes. The larger one, the Zephyr, can fly up to 20 minutes. We also can create the illusion that drones are flying longer by launching several sets of additional drones.
---
How does weather affect performances ?
---
For outdoor shows we can't fly under the rain, or if there's too much wind. In general we won't perform the show if wind speed is over 30km/h.
---
What flying space can you cover ?
---
We can fly our drones in indoor spaces as well as huge outdoor stadiums, so there is no upper limit for us.
---
How far are the drones visible ?
---
The shapes that we create when we perform an outdoor drone show are very huge. "Classical dimensions'' are 200m (width) by 100 m / 600 ft (width) by 300ft They can be seen from at least 2.5km (1.5 miles)... Here is for example a picture taken from a Paris's citizen from his window:
---
What is this strange carpet under the drones I can see in your videos?
---
For indoor shows we use 2 types of positionning systems: - Radio: invisible, but need time to setup and install our small radio emitters - The Magic Carpet : visible but very fast to setup (from 10 minutes up to 2 hours) For example, if you are a circus which goes every week to a different place, the carpet system is the perfect option for you.
---
How much does a drone show cost?
---
It depends on whether it is indoor or outdoor and on the location of the show. We also offer two different types of drone shows: the permanent ones (for theme parks for example) and occasional ones for one-shot events. For special events,
Indoor drone shows cost from 10,000€ to 100,000€.
Outdoor drone shows cost from 75,000€ up to 300,000€.
We would be very happy to evaluate your project. Please just fill in the following form and we will get back to you with a budget estimate: https://www.dronisos.com/generalcontact For a permanent show, it is a more complex to evaluate, so please contact us here and we will contact you to work on a proposal.
---
How far can we customize a show?
---
We not only create original choreographies, we can also help you design a spectacular show by customizing our drones' looks according to your needs. Imagine flying Oreos or fireflies all over your stage. Our choreographers work with prototypes : they start from a drawing and integrate it into our 3D tool. They are able to pre-visualize what the show is going to look like. Each show becomes a mix of engineering and art, which is the kind of challenge our creative team thrives upon! Here are some examples of our work.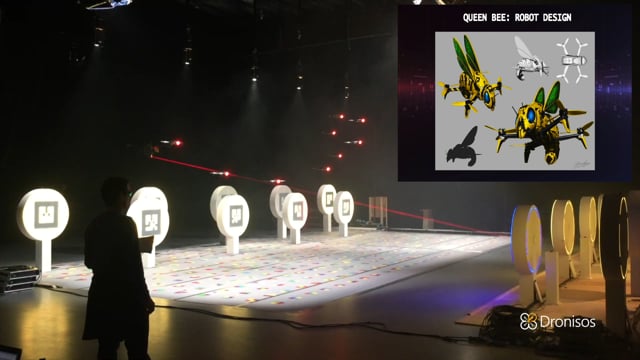 ---
---